| | |
| --- | --- |
| Older Blog entries | Fran Sneesby lives in S.E. Queensland building multihulls for Yendys Multihulls. |
Scarab 32 floats
July 2020
I have to take a break from my project (building 2 Scarab 10's). I have been hijacked to work on Ray's Scarab 32 floats and beams. It is going to be a bit creative working outside around the weather. Right now it is pouring down rain and the temperature has been barely above 0 centigrade before 9am for a couple of weeks. Finished painting the CopperCoat antifouling and now ready for primer.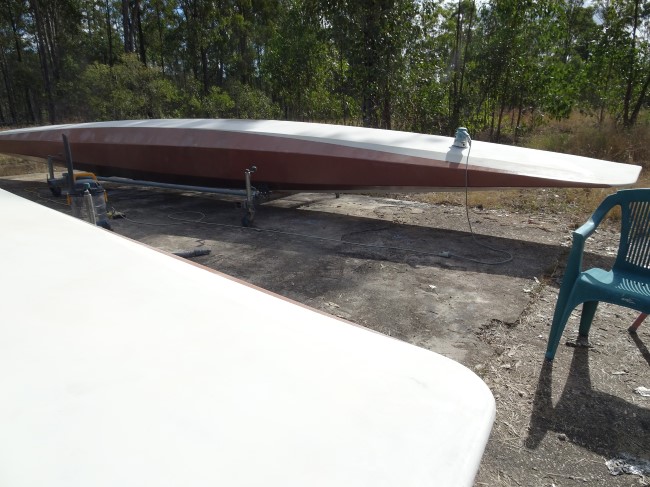 Scarab 10 beams
June 2020
It's lucky that we have large verandahs on the house because before I am finished it will be full. We don't have enough shed space to fit all the projects in and there is always a fear of hail which destroyed the paint on four boats a couple of years ago. These are the beams for three boats, 2 Scarab 10's and a Scarab 16. The floats for these boats are finished and will be moved out of the shed soon.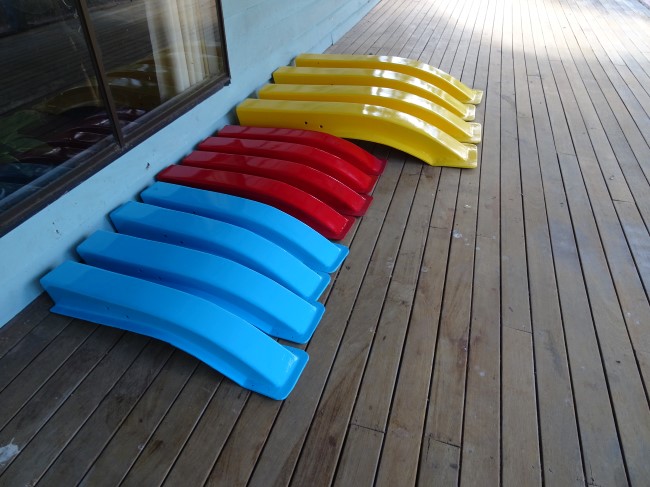 Scarab 10
April 2020
Things are moving along well. I will work until there are no more materials left. Social isolation is my normal life. But I am doing my duty and not spreading the virus. This is a picture of two moulded floats. They look a bit scrappy at the moment but the other picture shows what they will look like when painted. These floats were moulded and were on the first Scarab 10.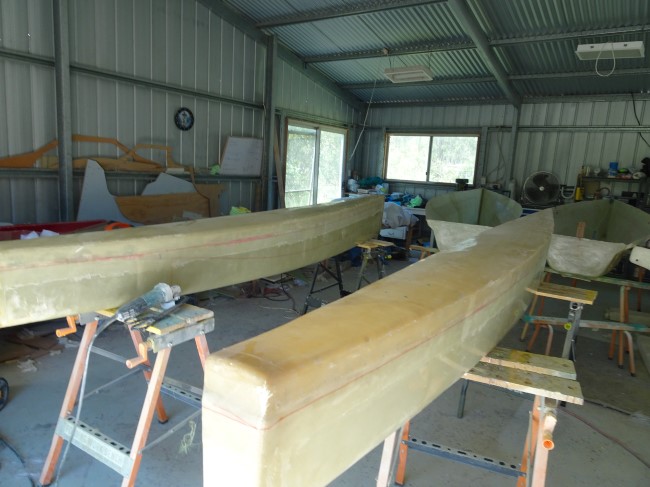 Scarab 10
March 2020


Once the mould was removed from the plug it was cleaned up. The plug was destroyed in the process and now lies out in the yard. I used thickened resin (with cotton fibres) instead of commercial gelcoat because I will be adding supports for the beams and the deck which will all be taped together. I am going to paint the boat anyway. The thickened resin leaves a shiny finish thick enough that can be sanded without sanding into the glass.
The picture shows two main hull bottoms. They look a bit rough but they will be fine when painted.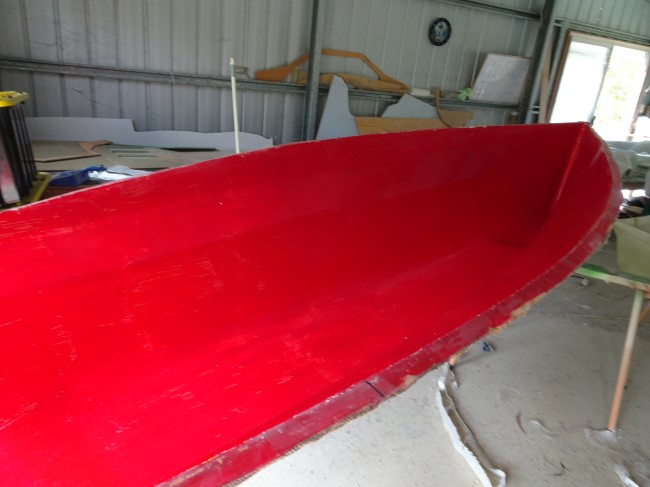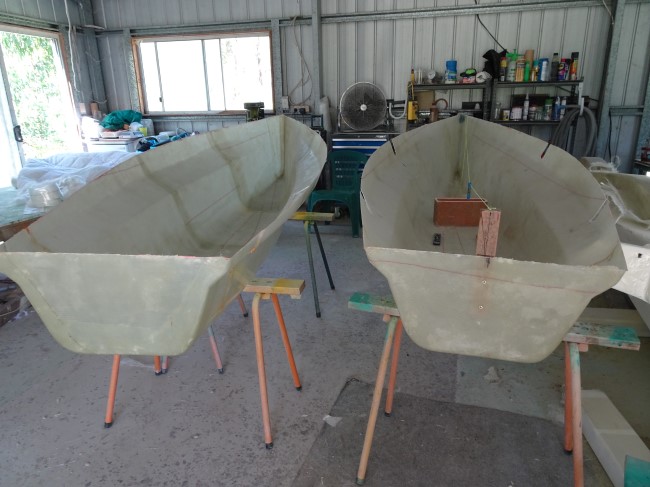 Scarab 10
23 March 2020


I wanted to build a few Scarab 10 foot boats and in order to save time finishing them I made a plug and took moulds from it. The boat has many parts and there didn't seem to any way to make it easy. So I decided to mould large parts that would require lots of time to finish and tape them all together.
The main hull had two main parts (the bottom and the deck). That would leave only the one tape that joined them together to finish.
The plug was made using scrap foam and glass. Then it was painted and a mould taken for the deck and the bottom of the hull.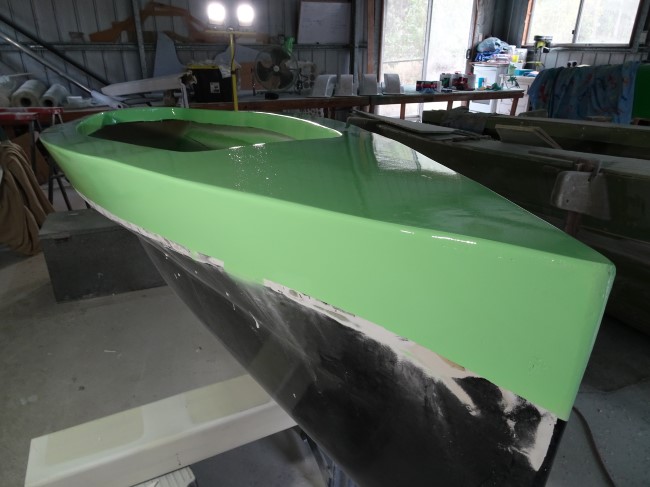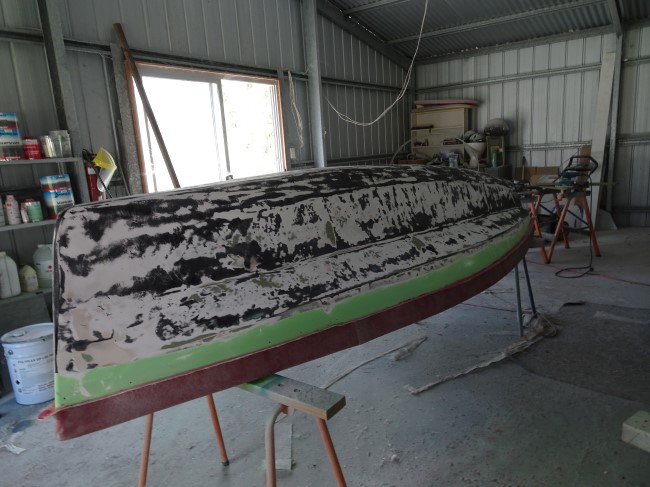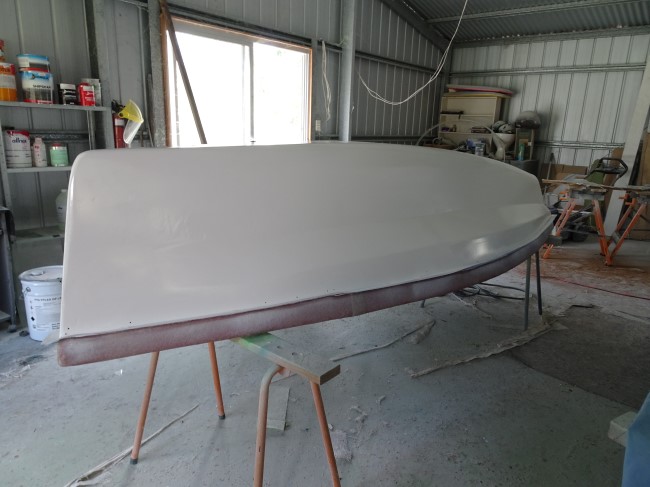 Scarab 10
15 January 2020.
The boat was launched and sailed well. I decided to build a couple more of these boats moulding them instead of foam laminated construction.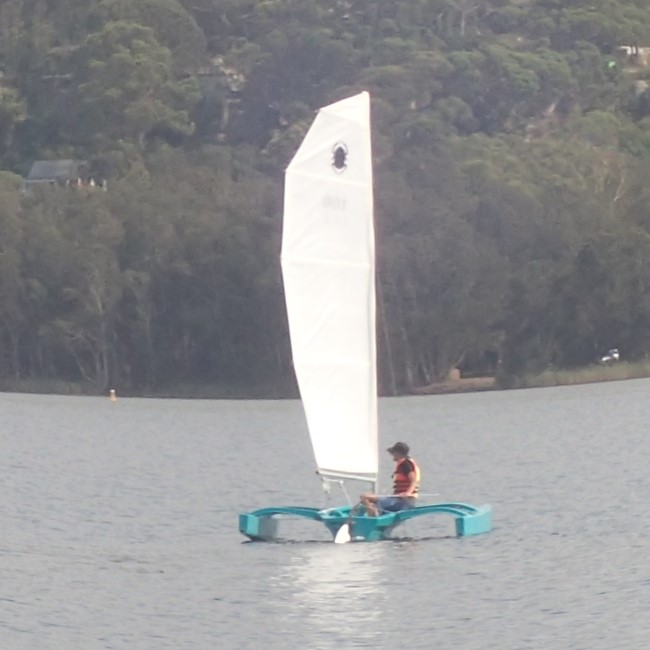 Scarab 10
1 January 2020.
The boat is finished and the rig is tested. The beams were added and tubes to support the tramps.