1 February 2017


Hi, I will bring you up to date on the Scarab 32 Prototype.
The cockpit is finished, interior almost finished and all of the deck and cabin is just about finished. I am preparing and taping the inside of the cabin / side deck joint, Taping the side deck / hull joint on the inside and taping the cabin top to bulkheads 3A and 4.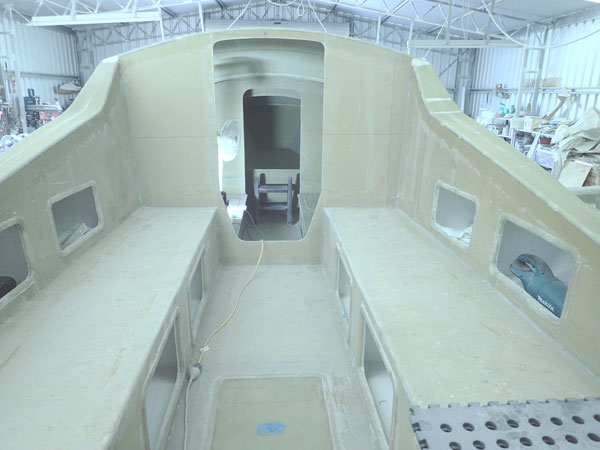 The forward bunk is complete as are the settees in the main cabin. The galley shelf is complete on the starboard side and the navigation shelf on the port side is also complete. The sink and stove (Origo single burner metho) have been purchased but the sink has not been installed yet.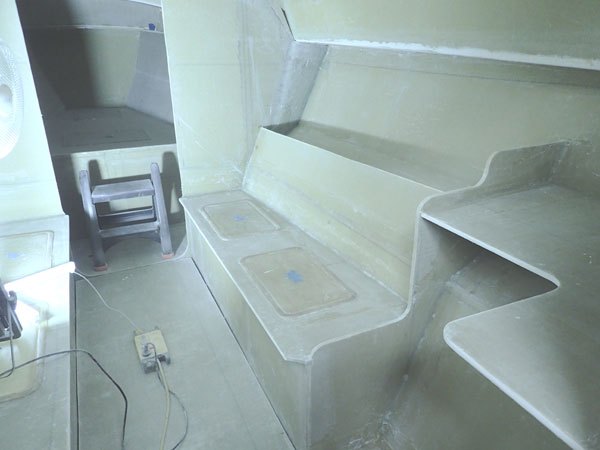 The curved panels for the cabin roof were made using foam that had been glassed both sides, saw cuts were made through the top layer of glass at 50mm spacing and just more than half way through the foam using a diamond studded blade in a small circular saw. A batten mould was then constructed to the correct curve to correspond with the tops of the bulkheads. The sheet was then draped over the batten mould, the saw cuts filled and the top covered with double bias glass, four of these panels were made and placed on to the top of the cabin sides. After trimming and taping they look great. The big 150mm Makita Random Orbital sander will be working soon on the filled deck, cabin and cockpit.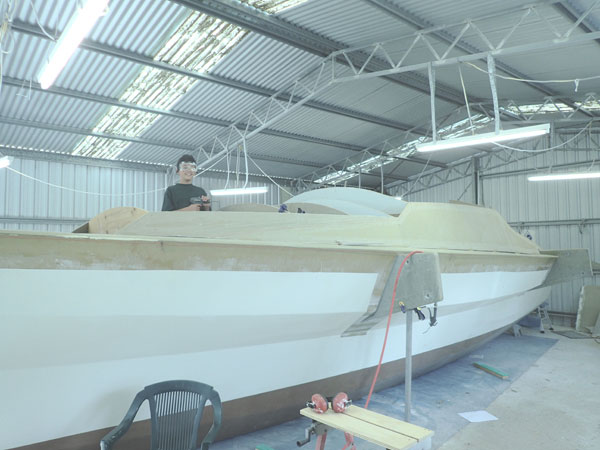 Ash - A willing helper.

Made a decision a few weeks back to not have a sliding main hatch, I had been entering and exiting the cabin without an opening in the cabin top without any trouble and decided to save lots of time by not making a sliding hatch. I am 6 foot (1.8m) tall so most would be able to use this approach.
All of the access hatches in the bunks, settees, cockpit seats and cockpit risers have been made using moulded frames and moulded lids, this improves the appearance (gives a nice consistent look) and simplifies building. Most builders will know that it doesn't matter how careful and precise they are in marking out and cutting openings the lids will only fit one way and cannot be used on the adjacent opening. The moulded frames and lids eliminate this annoyance. The windows will be set in similar frames glued to the cabin sides and this should make the windows leak free.
I have ordered the folding system and hope the fabricator can build it soon, the arms are water jet cut stainless steel and there will be a few welded spacers to complete each item.
It is so hot here this summer, most days the temperature in the shed gets up to 40 deg in the afternoon so all work with resin has to stop. In fact I took the last 2 weeks off because of the heat and finished off the drawings.