This design is for the beginng boat builder. Some experience with tools is needed.
Can be built in under 500 hours economically and relatively easy. The plans have been drawn up for foam sandwich construction with additional notes for marine ply construction. The Scarab 18 is a very compact trailerable trimaran designed for sailing on protected water, easy to rig and sail (single handed if desired).
It has a double berth and two quarter berths (under the cockpit seats) for two children. The centreboard is offset and housed in the starboard settee riser. The design incorporates many new and innovative ideas and refinements gathered over the past 15 years, and is the designer's favourite design.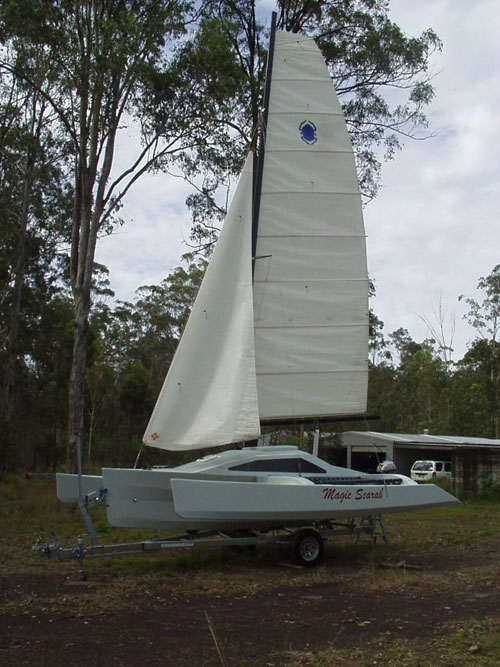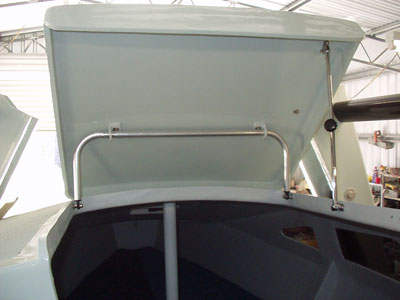 The accommodation consists of a double berth with two settee/quarter berths. As with all small boats you will need to be very good friends if planning to stay overnight onboard, the best setup would be day sailing for 4 and over nighting for 2. A small one burner stove can be stored in one of the quarter berths an esky in the other and a porta potti stored under the cockpit when not in use. There is storage provided under the forward berth and under the settees for food, clothing etc. Under the cockpit seats there is storage for safety gear, tools, fuel and a stern anchor. The main anchor is stored in an anchor locker in the bow. A 4 hp long shaft outboard motor is all that is required for auxiliary power and is mounted on a bracket on the transom.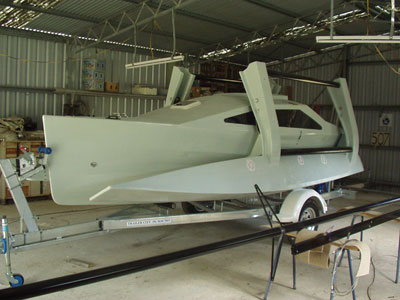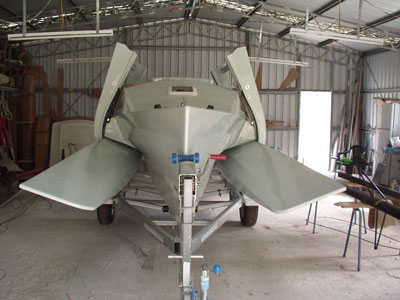 The scarab 18 has been designed to fill a gap in the folding trimaran line-up between the 16 foot" Microcruiser and the new Scarab 650. The hull shape is very similar to both of those designs, and is relatively easy and economical to build. The design has been detailed for foam sandwich construction with notes for building in plywood if that is desired.
As the name suggests the boat is 18 foot (5510mm) long and 15 foot 6 inches (4715mm) wide when extended / 6 foot 10.5 inches folded. The weight (fully rigged) is about 759 lbs (345 kg) in foam with a designed displacement of 1100 lbs (500 kg).
The mainsail is 180 sq ft (16.5 sq m) and the jib 68 sq ft (6.3 sq m) an asymmetrical spinnaker can be used 162 sq ft (15 sq m). This will make the boat very easy to handle with no winches required.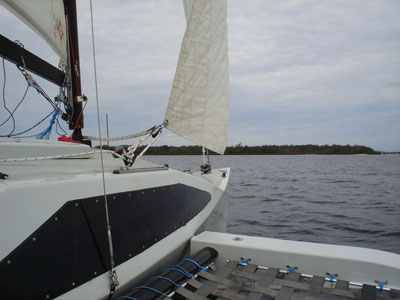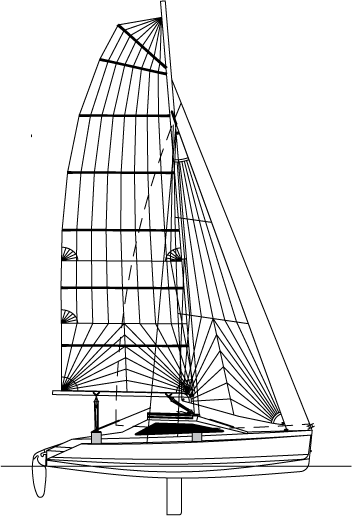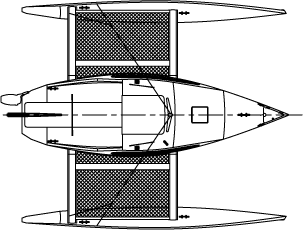 Buying plans
Study Plans:sent in PDF format within 24 hours. Study plans are provided to show a dimensioned general layout and sail plan, accomodation and a basic material list. Some other details may also be included. The boat cannot be built from the study plans but are provided for information and basic pricing.
Plans: the full plan set is required if the you want to build this boat. It contains all the information and dimensions required. The plans are presented in PDF format. These can be printed on your home printer on A4 size paper or sent to a photo copier to enlarge to A3 size. Plans consist of 47 drawings including material list in PDF format emailed within 24 hours.
PDF full size paper templates: these are provided as PDF files that may be printed by a Plan printing Business. The plan printer must have a "continuous roll A0 plotter". The full size templates are only required if desired, all the dimensions required to build are included in the full plan set.